Auto-reply is a feature on Brosix desktop (Windows, Mac, Linux) that allows you to create custom messages that will be automatically sent in response to messages you receive when you are away from your computer.

You can begin using auto reply by following a two-step process: creating a custom status, and setting an auto reply message to the custom status.

In order to create a custom status, begin by opening the "Brosix" tab and selecting the option "Settings," as shown below.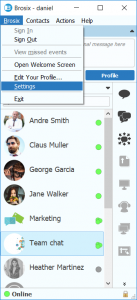 From the "Personal" section of the settings window you can create multiple custom statuses. In order to create a new status, click the "Add" button, select the status it will apply to under the "Status" field, and type your desired text under the "Text" field.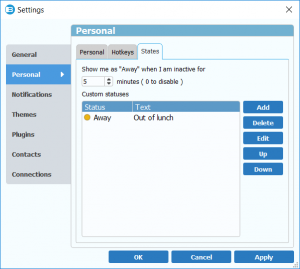 Now that you've created a custom status, you are free to create an auto reply message for this status. Begin by opening a chat window and clicking on the "Tools" tab.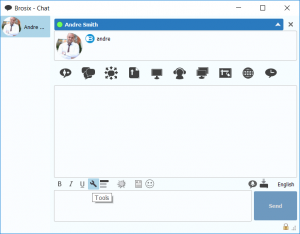 From the "Tools" window, select the "Auto reply" tab where you will see the custom status you created above. Select the status and create your auto reply message in the text field below. Once you are finished click the "OK" button.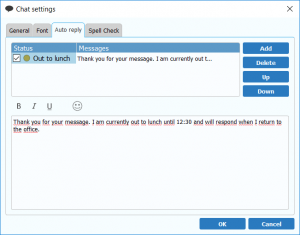 Change your status to the new status and your auto reply will be ready to go. In order to try it out, you can ask someone to send you a message, and Brosix will automatically reply to them with your custom message.