Once a chat room is operational, you are free to add new users at any time. To add users to your chat room start by opening the chat window for this room and click on the "Add people to this chat room" button, as shown below: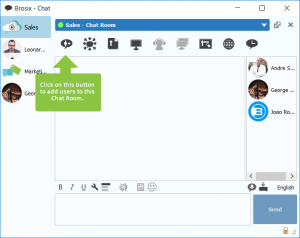 The "Invite people to the Chat Room panel" will now open. From here you can add new users to the chat room by selecting their name and clicking the "Add>>" button, as shown below: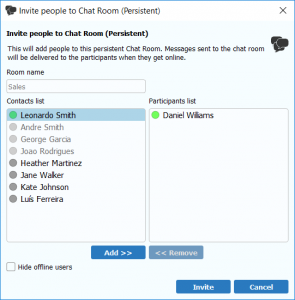 The users' names will now appear in the "Participants list." Once you have made the desired changes to the participants' list, click the "Invite" button to send them an invitation.
There are a few things to keep in mind when adding users to your chat room:
You can only add users from your contact list.
If a user is already participating in this chat room, he is marked in gray.
You can add users who are both currently online and offline (offline users will receive a notification upon their next login).
---
Want to learn more about chat rooms? Here are some more tutorials on the features and functionality of  Brosix Chat Rooms:
How do Brosix Chat Rooms work?
Create a Chat Room
Leave a Chat Room
Rename a Chat Room
Delete a Chat Room
Chat Room conferencing